It is that time of year again, when the Australian Wagyu Association calls for entries into the Wagyu Branded Beef Competition for 2020.
The only branded beef competition supported by a breed association, the Wagyu Branded Beef Competition is an opportunity to benchmark your product against your peers. Celebrating Fullblood, Crossbred and Commercial Classes, the competition seeks to promote excellence in Wagyu beef production for producers and brand owners.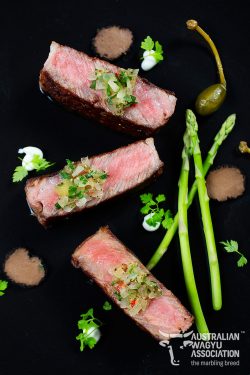 The categories are:
1. Fullblood Japanese Black Steak
2. Open Crossbred Wagyu Steak
3. Commercial Wagyu Steak marble score 5-7
In addition to Gold, Silver and Bronze medals for each category, Category Champion awards will be awarded to the highest scoring entry in each category. The highest scoring Category Champion will be awarded the Grand Champion Award. Terms and
Conditions for the competition can be found on the AWA Website.
Wagyu beef is characterised by its large eye-muscle and unique high-quality fine marbling and characteristic umami flavour, giving an exceptional eating experience.
To be true to Wagyu as the 'world's luxury beef' the decision has been made to not include the Gourmet Sausage class for 2020.
Judging of the Wagyu beef is based on five criteria: visual appeal (raw and cooked), juiciness, flavour, aroma and the physical sensation in your mouth. Last year saw the highest scores ever achieved within the Branded Beef Competition, across all categories of entry, with the judges remarking at the consistently outstanding quality put forward.
Corporate Executive Chef, John Alexander will once again preside at the judging, which this year will take place at Cha Cha Char Wine Bar & Grill, Brisbane on March 17, 2020 and the winners announced at the annual conference WagyuEdge 2020 Gala Dinner, to be held Royal Pines Resort, Gold Coast, 31 April – 2 May, 2020.
Entry forms can be completed through the AWA Branded Beef Competition website.
Entries close 14 February, 2020. Any queries please do not hesitate to be in touch with Ron Fitzgerald on 0428 456 293 or email email