The AWA has been conducting NFI studies since 2018, at Stockyard's Kerwee Feedlot near Jondaryan Queensland using the Growsafe (now Vytelle) Feeders. The Wagyu NFI project is necessary to understand opportunities to select for Wagyu genetics that will improve resource use efficiency for the Wagyu Sector in the future.  The project will also contribute vital information to improve our understanding surrounding genetic variability in methane production in future Wagyu research.
Analysis conducted by Dr Kirsty Moore from the Animal Genetics Breeding Unit (AGBU) on the data collected in the NFI project to date, spanned records from 55 different Wagyu Sires.
The analysis of NFI variation in Wagyu shows that the trait is heritable (can be selected for) and there is a potential variance of 2.2 kg/day NFI across the sires tested.  That means, compared to the least efficient sires, there are sires whose progeny consume 2.2kg less feed per day for the same growth rate and body weight.
AWA CEO Dr Matt McDonagh said that "this finding presents a huge opportunity to significantly reduce feed costs over long feeding periods in addition to providing opportunity for the Wagyu Sector to manage resource use efficiency and its carbon footprint."
Now in its second year, the Annual Net Feed Intake Awards recognise sires which have a positive influence on their progeny in terms of NFI. The awards were presented at the Welcome Dinner of the 2022 WagyuEdge Conference, with over 400 attendees. The leading sires for 2022 were as follows:
1st Place – 2022 Highest Efficiency Sire: Wagyu Genetics Itsoshigenami D8920 WGWFD8920 – Owned by Paul Harris, Sunland Cattle Co
2nd Place – 2022 Highest Efficiency Sire: Longford D12759 LFDFD12759 – Owned by Arthur Dew, Longford Station
3rd Place – 2022 Highest Efficiency Sire: Trig Farm Wagyu Sanjitike FF0319 TW FF0319 – Owned by Stanley Piggins, Trig Farm Wagyu
In addition to recognising high performing NFI sires, the awards also recognise the highest-ranking sire based on overall profitability through the feedlot and carcase production system.  This is the sire with the best overall profit outcome when both feedlot performance and carcase performance of his progeny are measured.  The winner of the Overall Highest Profitability Sire was:
2022 Overall Highest Profitability Sire: Wagyu Genetics Itsoshigenami D8920 WGWFD8920 – Owned by Paul Harris, Sunland Cattle Co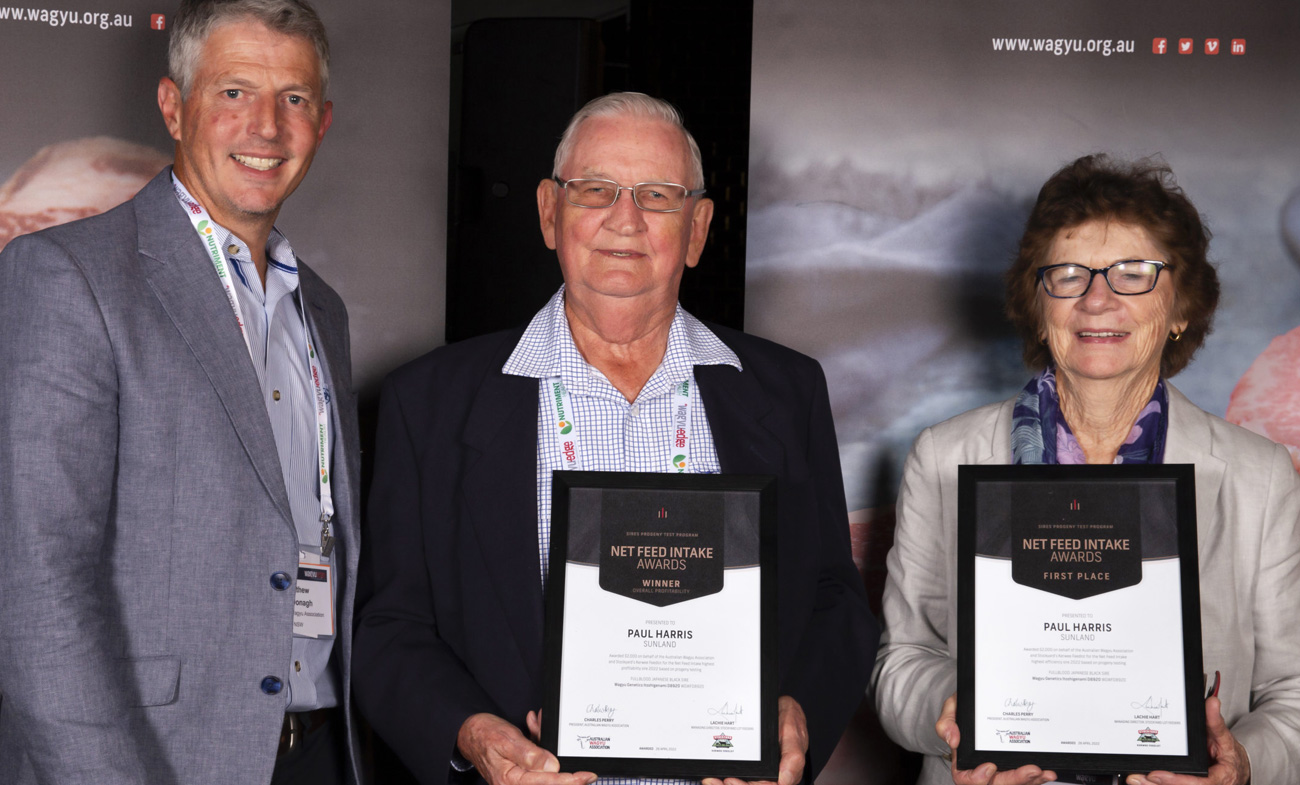 With Wagyu Genetics Itoshigenami D8920 winning both first place in Highest Efficiency sire and Highest Profitability sire, this demonstrates that superior genetics for Feed Efficiency and Carcase Performance can be identified in the same individual in Wagyu.
Mr Paul Harris, Sunland Cattle Co, said, "To be awarded first place in the Net Feed Intake Award and the winner of the Overall Profitability is quite humbling and we wish to thank Stockyard for running this feedlot program and the Australian Wagyu Association for sponsoring this program."
Mr Harris then went on to say "The efficiency outcome of this program is massively important to our commercial Fullblood Wagyu operation. Originally, this sire was run with our Purebred herd to produce high quality commercial Wagyu and 6 years ago we brought him across to run him with our Fullblood herd.  His results were well above average and he was identified as a superior sire within our herd. After we identified his potential, we collected semen from him and now use this semen in our AI and ET programs. Being by Itoshigenami TF148 out of Kaneyama x Michifuku cow, he is nicely bred to compliment the Fullblood females we have within our breeding herd."
So far, more than 1,000 progeny from 55 different sires have been tested. The AWA anticipates that these numbers will double by the end of the project – presenting a limited opportunity for AWA members to have their sires tested for NFI. Using the data on progeny from the anticipated ~100 sires, the AWA will be looking to test NFI EBVs for Wagyu production and understand the opportunity for Wagyu supply chains to benefit from using more efficient genetics.
Mr Harris added "As Wagyu are typically fed in the feedlot for 400 days, it is imperative that net fed intake be taken into account for cost effectiveness of feed conversion to weight gain, so as to produce beef that is environmentally more sustainable, as well as decreasing the methane being emitted in production, and to be more profitable to produce."
2nd Place – Highest Efficiency Sire owner, Mr Arthur Dew from Longford Station has had success in this project before, with his sire Mr Awesome having been awarded Overall Highest Profitability Sire in 2021. "We are very pleased to have won second place in the feed efficiency trials. We believe these trials & competitions are a valuable tool for identifying the sires that excel in producing superior carcasses at the lowest cost & are therefore a benefit to the Wagyu industry."
Mr Dew added that "the AWA & Stockyard are to be congratulated on their initiative in this regard. We are also pleased that our Yasufuku Jnr sired D12759 has followed the earlier success of our Mr Awesome which is a further vindication of our overall breeding program directed at producing the best possible carcasses."
Stockyard's Genetic Improvement Officer, Phoebe Jenkins said, "It's exciting to see some impressive results from the trials being implemented in breeding herds like Sunland Cattle Co, Longford Station and Trig Farm Wagyu. These producers and all others who enter our trial are a step closer to being able to produce cattle that potentially require less feed but achieve the same marbling and muscle size our brands are renowned for."
"Having the raw data right at your fingertips will help producers shorten the time period it takes to figure out which genetics are most sustainable, so they can cut out the under-performers sooner and identify genetic lines that hit the sweet spot of high marbling, high growth and feed efficiency."
"That's a huge win for not only feedlots and brand owners like Stockyard but also producers and customers. Eventually, we can run a more efficient feedlot, our customers receive a sustainably produced, consistent product and we can share profits with producers that are excelling in this space," Ms Jenkins continued.
Stockyard has continued to invest in the trial program with new software and in pen weigh cells. Ms Jenkins said, "This new technology will improve the granularity of data with less disruption to the cattle. This will mean we can determine individual feed efficiencies of any sire line without biasing results due to animal behaviour or human interaction."