Kilcoy takes out Grand Champion for the first time
The award winners for the best Wagyu brands in Australia were celebrated at the Wagyu Sectors Industry Dinner evening on the 19th of April, in front of 600 leading producers, experts and brands. This was the 12th year of the Wagyu Branded Beef Competition, with a total of had 58 world class entries judged by a panel of 36 food and beef industry experts to crown the very best Australian Wagyu. Judged across five classes –Fullblood Japanese Black Steak, Purebred Wagyu Steak, Open Crossbred Wagyu Steak, Open F1 Wagyu Steak, Commercial Wagyu Steak Marble Score 5-7– with judges scoring visual appeal (raw and cooked), juiciness, flavour, aroma and the physical sensation in your mouth. The WBBC promotes excellence in the production of Wagyu beef and advancement of Wagyu – the worlds luxury beef
Grand Champion and Class 1 Fullblood Wagyu Champion
Sponsored by Ariat Australia & Ced Wise AB Services

The 2023 Wagyu Branded Beef Competition, Grand Champion brand was awarded to the winner of Class 1 – Fullblood Japanese Black – JADE Wagyu, Kilcoy Global Foods. This was the first time Kilcoy had received Grand Champion in the WBBC. This remarkable Fullblood entry was bred by Arubial Wagyu, this entry had a very impressive 58% marbling, with marbling fineness of 8.8 and Eye muscle area of 109cm and again a very high 59% unsaturated fats. The judges remarked that this was the ultimate experience of rich caramelized and roasted aroma with silky smooth tenderness and long lasting juiciness – Deliciously balanced and succulent.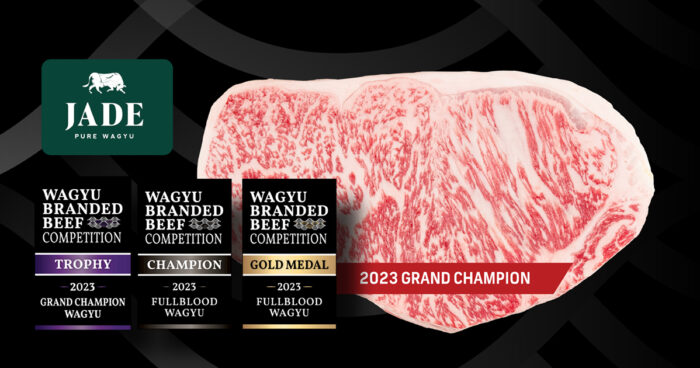 Upon receiving the award, Mr Bede McAlpin, Regional Manager South East Asia and Middle East, Kilcoy Global Foods said "Kilcoy Global Foods feels extremely humbled to be selected Grand Champion Wagyu Brand for the 2023 Competition for our JADE Wagyu Brand. The investments in our processing assets at Kilcoy, Hardwicks and Lance Creek have enabled the maximising of our high end premium programs to supplement our growing global customer base."
Mr McAlpin went on to say "our supply chain partners work tirelessly to provide a product that is truly world class and our investment in our processing, people and route to market strategies enable the full potential of our Wagyu programs of Carrara and JADE to exceed all the expectations of our customers"
Reserve Champion
Sponsored by Ariat Australia

The reserve champion of the WBBC was Kiwami by Stockyard. Bred by AWA Honorary Life Member Arthur Dew from Longford Station, the high marbling of 52%, with high fineness of 8.8 and very high unsaturated fat levels at 61% made this entry stand out. The judges described the Kiwami entry as beautifully tender with sweet aroma, meting butter flavour, dissolving juiciness, a superb Wagyu example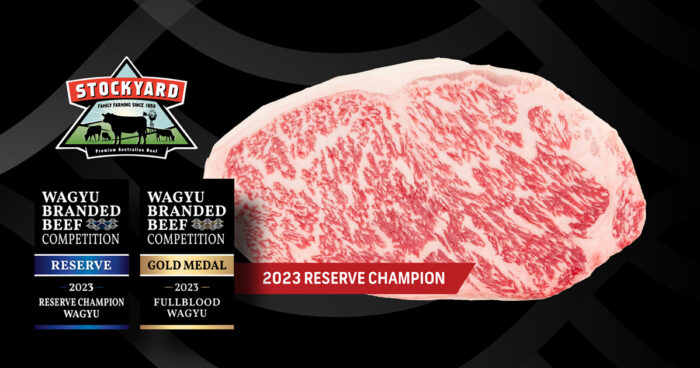 Class 1 Fullblood Wagyu
Sponsored by Ced Wise AB Services
Gold Medallists
JADE Wagyu by Kilcoy
Kiwami by Stockyard
Jack's Creek Wagyu by Jack's Creek
T.S Mort by Mort & Co
Stone Axe Fullblood Wagyu by Stone Axe Pastoral Company
Macquarie Wagyu by Direct Meat Company
Cobungra Station Fullblood Wagyu by Stone Axe Pastoral Company
Silver Medallists
Infinite Full Blood Wagyu by Rangers Valley
L'Grow by Lotte International
Class 2 Purebred Wagyu
Sponsored by Bovine Dynamics
The Purebred Wagyu Steak is a new category for the WBBC, recognizing the outstanding gains being seen in the Purebred Sector. The Champion of Class 2 Purebred Wagyu was awarded to Jack's Creek with their Jack's Creek Wagyu Brand. Bred by Hughes pastoral from a purebred sire, this entry had very high marbling of 61%, moderate marble fineness of 7.0 out of 10 and an eye muscle area of 97.3 cm. The judges remarked that this entry was an explosion of marbling with delicate tenderness and aromas of toasted macadamia, soft silky mouthfeel and superb flavour – Delicious!.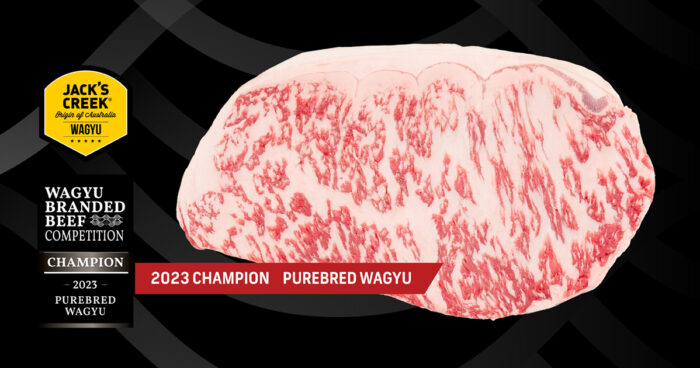 Gold Medallists
Jack's Creek Wagyu by Jack's Creek
Okan Wagyu by Pardoo
Silver Medallists
Master Selection by Mort & Co
Kiwami by Stockyard
Kind River by King River
Bronze Medallists
Imperial Blossom Beef by Starzen Australia
WX by Rangers Valley
Class 3 Crossbred Wagyu
Sponsored by Hughes & Georgina Pastoral Group
A celebration of the best Crossbred Wagyu production. The Open Crossbred class is a long-standing feather of the WBBC and this year, the champion was awarded to Okan by Pardoo Wagyu. This entry was bred at home by Georgina Pastoral for Pardoo and although it did not have the leading MIJ marbling percentage in the class, it rated most highly with the judges who adored the well aged, soft, silky and delicate texture, with lasting juiciness. Delicious toasty umami flavour with a sweet buttery aroma.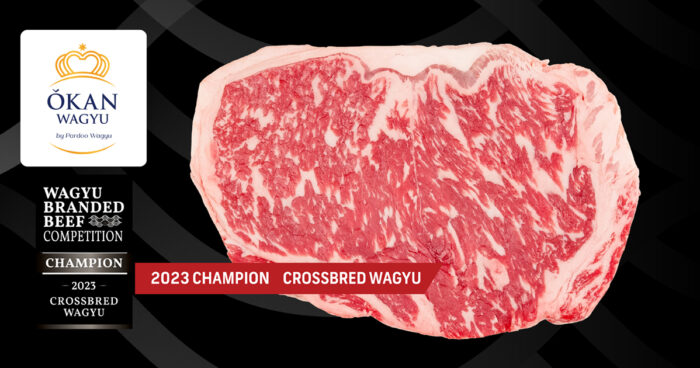 Gold Medallists
Okan Wagyu by Pardoo
Connors Wagyu Beef by Direct Meat company
ICON XB Wagyu by Paradigm Foods
Stockyard Black by Stockyard Beef
Omino by Harmony Agriculture & Food Company
Carrara 640 by Kilcoy Global Foods
Diamantina Wagyu by Stanbroke
Silver Medallists
The Phoenix by Mort & Co
L'Grow by Lotte international
Bronze Medallists
Class 4 Open F1 Wagyu
Sponsored by Prime Cut Meats
The open F1 class was only introduced this year and was aimed at recognizing the power of Fullblood Wagyu genetics combined with optimal genetics of other breeds. This year's class 4 champion was awarded to Tajima by Andrews Meat Industries. This exceptional Open F1 class winner had a staggering MIJ Digital Marbling of 57%, along with class leading Eye Muscle Area of 98cm2. The judges comments said it all – Pure bliss. Superb clean fresh juiciness and silky texture. Rich, buttery and umami flavour with lasting juiciness and depth.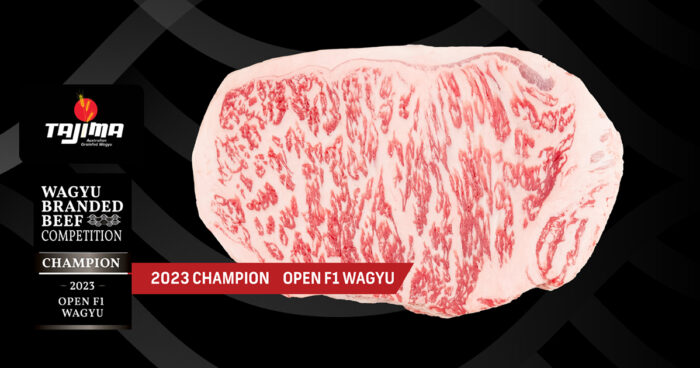 Gold Medallists
Tajima by Andrew Meat Industries
Diamantina Wagyu by Stanbroke
ICON XB Wagyu by Paradigm Foods
Carrara 640 by Kilcoy Global Foods
Omino by Harmony Agriculture & Food Company
First Growth by Pardoo Wagyu
 Silver Medallists
WX by Rangers Valley
YUGO XB Wagyu by Paradigm Foods
Bronze Medallists
Eight Blossom Beef by Starzen Australia
The Phoenix by Mort & Co
Jacks Creek Wagyu X by Jack's Creek
Class 5 Commercial Wagyu MS5-7
Sponsored by ComCater
A true representation of commercial Wagyu production, limited to entries with a marble score between 5 and 7. Class five is a staple for all Crossbred Wagyu brands, representing value and premium quality within Crossbred wagyu production. This year's Class 5 Champion was awarded to Diamantina Wagyu by Stanbroke Beef. This entry was bred by Stanbroke with high unsaturated fat content of 53%. The judges felt that this entry was outstanding within its class, providing a wonderful eating experience in the Commercial Wagyu Steak category.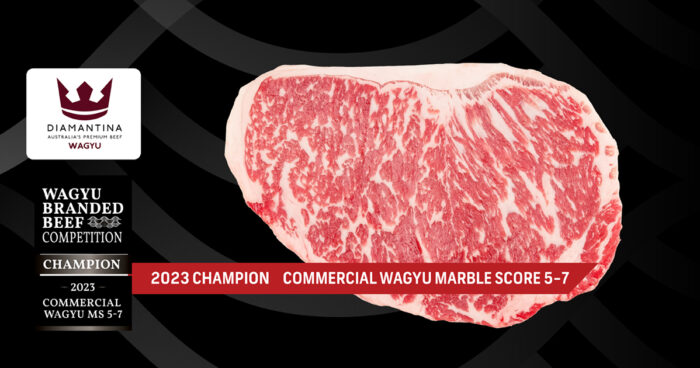 Gold Medallists
Diamantina Wagyu by Stanbroke Beef
Black Opal by Harmony Agriculture & Food Company
Silver Medallists
Omino by Harmony Agriculture & Food Company
DMC Black by Direct Meat Company
Jack's Creek Wagyu X by Jack's Creek
ICON Wagyu by Paradigm Foods
Bronze Medallists
Imperial Blossom Beef by Starzen Australia
YUGO XB Wagyu by Paradigm Foods
WX by Rangers Valley
For full results, visit the WBBC Webpage HERE