The Australian Wagyu Association (AWA) will facilitate the 2023 Elite Wagyu Sale to support the thriving Wagyu Sector by offering AWA breeders the opportunity to sell their high-performing and unique Wagyu genetics in one place at the one time. The Sale has become the hallmark Wagyu genetics event for the international Wagyu Sector.
Every single lot accepted into the 2023 Sale will be extremely high quality, with animals required to be at the top of the Australian Wagyu Association published Estimated Breeding Values (EBVs) for Wagyu traits to qualify.
Buyers now recognise the genetic tools' contribution to increasing the accuracy of animal performance figures. This was evident during the 2022 Elite Wagyu Sale that eclipsed past records grossing a total of $2.86 million. 300 bidders were present in the Auction room, with a further 100 bidders online. This sale was dynamite and consolidated Wagyu's position in the global beef industry at the cutting edge of progress. An all breeds Australian record was achieved with the purchase of Lot 1 – Sunnyside S0014 selling for $400,000. The strength of the 2022 sale is a testament to the work that the entire sector has done to strive for continuous genetic improvement.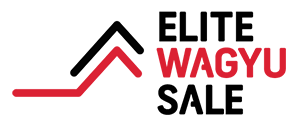 In 2023 all entries included in the sale will be proven animals, at least one generation back in their pedigrees. The 2023 Elite Wagyu Sale will take place 20 April 2023, with bidding available in-person or online. The number of lots accepted into the catalogue will be limited.
Nominations are open to enter lots into the 2023 Elite Wagyu Sale. Find out more information about nominating your Wagyu genetics and entry requirements.