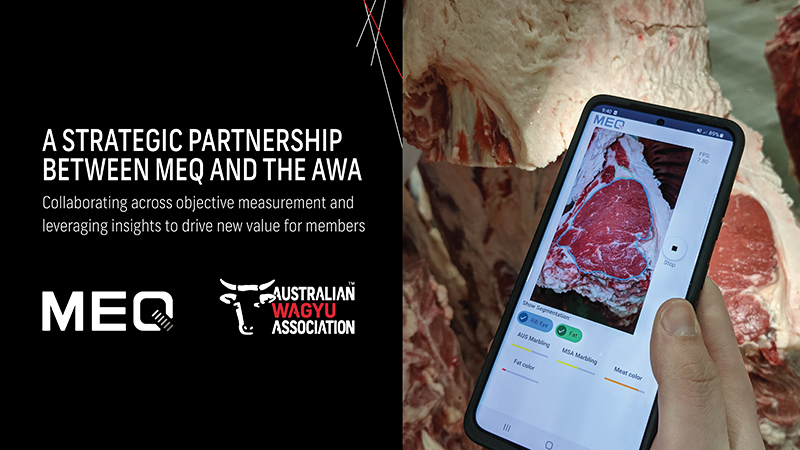 MEQ and the AWA enter strategic partnership, collaborating across objective measurement and leveraging insights to drive new value for members
Australian agtech company, MEQ and the Australian Wagyu Association (AWA) today announced an expansive partnership that champions collaborative objective carcase measurement and transformative data utilisation throughout the Wagyu supply chain. MEQ and AWA stated that the partnership demonstrated a shared commitment to precision and quality within the Wagyu industry and brought tremendous new value to association members.
Unveiled at the Australian Wagyu Association's Technical Workshop, the pioneering partnership sees MEQ assume the role of an objective carcase grading partner for the association. In addition to delivering precise carcase measurements to the association's base of over 1,000 members, MEQ will also provide unmatched analysis of measurement data, leveraging it for new insights that will drive exceptional outcomes for the Wagyu supply chain. This will be achieved using MEQ's suite of data-driven, AI-powered tools, which meticulously assess the quality of red meat across an animal's entire lifecycle.
Matthew McDonagh, CEO of the Australian Wagyu Association said, "Quality is paramount with Wagyu, and we are always on the lookout for tools that can improve the breed and further its reputation as the world's luxury beef. This is why we are delighted to be embarking on this unique partnership with MEQ that will greatly expand the AWA's data collection and analytics capabilities.
"With MEQ on board as an AWA objective grading partner, we greatly expand our ability to use high accuracy commercial data from Wagyu producers around the world. This ensures that our members know the exact composition of their product, regardless of their location. With unrivalled insights and analysis into Wagyu product quality traits, we are confident about continuing to build on the leadership position of Australian Wagyu in the global market. MEQ's suite of tools helps us delve into the science behind the meat and we look forward to working together to advance the production of Australian Wagyu."
As part of the partnership, MEQ will be the official AWA Progeny Test Program's objective carcase grading partner; a breeding initiative focused on refining the most coveted traits in the Wagyu sector. Tasked with monitoring intramuscular fat (IMF) data for the Wagyu sector's core reference population of500 animals each year, MEQ plays a crucial role in assessing and optimising the outcomes for superior traits and marbling. The data collected will not only guide the program's evolution but will also be disseminated to participants across the entire supply chain, fostering informed decision-making at every stage.
MEQ grading data and analysis will also be incorporated into the association's BREEDPLAN initiative; an industry-wide database that documents the estimated breeding value of animals and serves as a benchmark for genetic performance.
Remo Carbone, CEO of MEQ said, "Australian Wagyu has always stood out within the global red meat industry. MEQ is thrilled by our new partnership that will arm association members with actionable insights derived directly from measurement data that can be used to make the best business decisions. We are also excited to participate in the Progeny Test Program and BREEDPLAN to help further the Wagyu breed as a whole."
About MEQ
MEQ is a Melbourne-based agtech start-up working to further advance the global meat industry towards objectively measuring meat quality. MEQ technology utilises spectral analysis to determine the intramuscular fat percentage (IMF) or eating quality of meat on a carcase-by-carcase basis. The innovative technology amalgamates physics, chemistry, and biology with machine learning to provide meat processors with a benchmark to improve the quality of their product. MEQ provides real-time information to meat processors, which can be shared up the supply chain (distributors, butchers, consumers) and down the supply chain(on-farm growers).