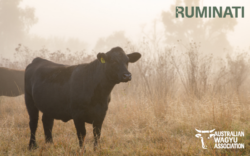 The Australian Wagyu Association (AWA) is excited to announce a new 2-year partnership with farmer-led software provider Ruminati, supporting our members to track and validate their on-farm climate action.
The partnership will see AWA onboard members to the newly released Ruminati PRIME platform, allowing them to generate accurate, detailed and personalised emissions estimates for their farm business. Within the platform, members will also be able to model the impact of methane and CO2-e abatement options, set and measure against individual emissions reduction targets, and create tailor-made, future-facing emissions reductions plans.
"This exciting new partnership with Ruminati will help us take the first steps toward baselining Australia's Wagyu Sector through a platform that simplifies user inputs but uses the full complexity of Australia-wide baseline data and current carbon accounting methodologies," says AWA CEO Dr Matt McDonagh.
"We want to provide our members with access to the most accurate and efficient tools on offer. With the Ruminati PRIME platform allowing a high accuracy but simplified on-boarding process, our producers can run scenarios on the impact of practice changes or additional activities on their forecasted emissions. Finding realistic pathways to meet climate goals will become a lot clearer, and where these pathways can be scaled across industry, we will be able to leverage that information for the benefit of the Wagyu Sector."
Valued at $600 AUD for a yearly subscription, the Ruminati PRIME platform will be made available at no direct cost to AWA members as a result of the new partnership.
Once onboarded, members can choose to share their emissions data with AWA via Ruminati VISION, allowing the Association to track sector-wide emissions against their established emissions targets and develop best practices for emissions management.
"Using our VISION platform, the Wagyu Sector will be able to identify the areas where farmers are making progress and other areas that need support from the AWA to make significant change," says Coolac based producer and Ruminati co-founder Bobby Miller.
"Farmers shouldn't have to choose between running a productive, profitable farm enterprise and contributing to Australia's climate goals. With an accurate understanding of the climate reality of their enterprises, AWA and the Wagyu Sector will not only be able to demonstrate their sustainability credentials on both a farm and industry level, but map out tailored approaches for managing their emissions footprint. It'll be a game changer for both Australian Wagyu producers and the industry."
Bobby Miller will be conducting a baselining workshop at the upcoming AGM and Technical Workshop in Brisbane on November 14th. We encourage you to attend and learn about how you can take advantage of this brand-new partnership.
WATCH NOW
AWA x Ruminati Webinar – 5th December 2023
For more information on Ruminati: LEARN MORE