Wagyu Long Lunch Takes Centre Stage with new Major Event at Beef Australia 2024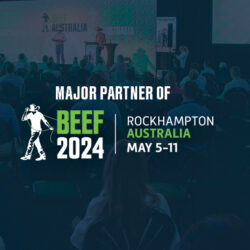 The Australian Wagyu Association (AWA) will be a Major Partner at the highly anticipated 'Beef Australia 2024' event in Rockhampton from May 5th to 11th.  The new partnership will bring an increased focus on Wagyu to Beef Australia, reflecting the expanding impact of Wagyu in the Australian cattle industry.
Beef Australia CEO Simon Irwin said the organisation is thrilled with the new partnership between the AWA and Beef Australia. "The Australian Wagyu Association is committed to advancing the world's luxury beef, making this Major Partnership a harmonious blend of excellence and dedication to the beef industry", Mr Irwin said.
AWA's involvement extends to a new Beef Australia key event, the eagerly anticipated Wagyu Long Lunch on May 6th, the opening day of Beef2024. The Wagyu Long Lunch will be a highlight of the Beef2024 event calendar and is poised to attract diverse interest from the Australian Beef community, providing a unique luxury dining experience highlighting Wagyu beef on the centre stage for the first time at Beef Australia.
"Together, we embark on a new event in Beef2024's social calendar, the Wagyu Long Lunch, a delicious feast that celebrates the richness of Australian Wagyu beef," said Mr Irwin.
Mr Irwin said Beef Australia look forward to working more with the Wagyu Sector and with the Australian Wagyu Association to enhance the Beef Australia experience for all involved.
AWA CEO, Dr Matt McDonagh follows the sentiments of Mr Irwin and said the AWA is looking forward to bringing a luxury eating experience to the Beef2024 event in the form of the 'Wagyu Long Lunch' as well as being able to engage with industry at the new AWA ringside display suite which will provide an interactive space for the Wagyu Sector to hold on-site seminars and workshops.
As the Australian Wagyu Association embraces a new partnership with Beef Australia, the anticipation builds for an extraordinary Beef2024 event. More updates and details to come on our website over the coming months.